WHAT IS THE CURRENT SITUATION
The school is currently open to vulnerable students and those whose parents are Key Workers.
The area is currently in Lockdown.
HOW ARE WE TRYING TO KEEP THE SCHOOL SAFE
We are following Government and Public Health England instructions especially our emphasis that everybody has a responsibility to wash their hands regularly and practise good respiratory hygiene.
On arrival all students and staff will use hand sanitiser and have their temperature taken.
Students and staff in school are to follow social distancing guidelines at all times. We expect students to wear masks in corridors and on the stairs and we highly recommend that they wear them in all communal areas including classrooms.
Cleaning products will be available in all classrooms if needed, our Caretaker will provide additional cleaning of high-profile contact points.
catch up premium
Following the 2020 lockdown due to the COVID-19 pandemic, schools have received an additional amount of money to provide catch-up support for those pupils that require it. At Rowhill School, in order to utilise this additional funding in the best possible way, we have considered closely the research and advice put forward by the Department for Education (DFE) and the Education Endowment Fund (EEF) and used timely assessments of both pupils' academic and personal development needs to inform our decisions. The table below outlines our intentional spend with a rationale accompanying each decision.
Catch up funding - planned expenditure
what actions can i take to keep my family safe
Wear a face covering in enclosed spaces
Ensure that you stay at least 1 metre apart from anyone outside of your household
Wash your hands with soap and water often - do this for at least 20 seconds
Always wash your hands when you get home or into work
Use hand sanitiser gel if soap and water are not available
Cover your mouth and nose with a tissue or your sleeve (not your hands) when you cough or sneeze
Put used tissues in the bin straight away and wash your hands afterwards
If you are feeling unwell, get a test
what do i do if my child or a member of the household show syptoms of covid 19
The symptoms of coronavirus are:
a new continuous cough
a high temperature
loss/change in your normal sense of taste or smell
VISIT NHS 111 FOR ONLINE SYMPTON CHECKER
In line with Public Health Guidance:
If you have any of the symptoms you must get tested. Please use the NHS website or call 119 to book a test or for details and further advice.
If your child or any member of the household tests positive for Covid-19 they must stay at home for at least 10 days
If a member of the household has symptoms ALL MEMBERS of the household must stay at home for 10 days from the day the first person got symptoms
Those who have been in close contact with someone who tests positive must isolate for 10 days, even if they have no symptoms, to avoid unknowingly spreading the virus
LATEST COMMUNICATIoN HOME
Covid 19 related pupil absence
Remote Learning during Lockdown January 2021
Common Signs of Coronavirus
Parent Communication
Coronavirus Update Letter 11.02.21
Coronavirus Update Letter 05.01.20
Coronavirus Update Letter 04.11.20
Coronavirus Update Letter 13.03.20
Coronavirus Update Letter 17.03.20
Coronavirus Update Letter 19.03.20
Coronavirus Update Letter 20.03.20
Coronavirus Update Letter 27.03.20
Coronavirus Update Letter 03.04.20
Coronavirus Update Letter 17.04.20
Coronavirus Update Letter 01.05.20
Coronavirus Update Letter 11.05.20
Coronavirus Update Letter 18.05.20
Phased return Year 10 & 11 18.05.20
Communication of Safeguarding Concerns 19.03.20
DofE Guidance for Parents
Domestic Abuse Resources
Child Protection/Safeguarding Covid 19 Policy
EHC INFORMATION
Information and advice from Hampshire County Council for families, education providers and support services about children with special educational needs, education health and care assessments and education health and care plans.
SUMMER GCSE GRADES
Letter to parent/carers 06.04.20
Supporting Children's Mental Health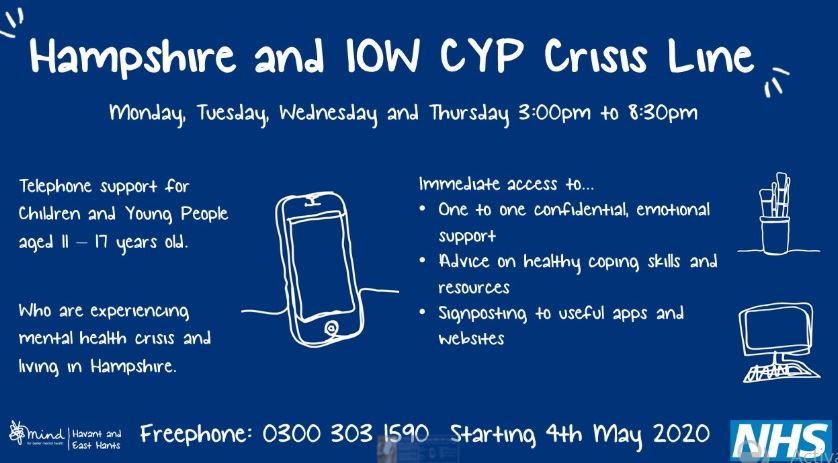 Good Mental Wellbeing During Isolation
Bedtime Gratitude Reminder Cards
Supporting Children with Mental Health
SOCIAL STORIES
Please find some resources which you can use with your child if they are finding the current changes, linked to Corona Virus, hard to process. One is suitable for younger children the other is aimed at older children.
Lockdown Social Story January 2021
Lockdown Social Story November 2020
Useful links
9.00am - PE with Joe Wicks https://www.youtube.com/watch?v=6v-a_dpwhro&feature=youtu.be
10.00am Maths with Carol Voderman https://www.themathsfactor.com/
11.00am English with David Williams https://www.worldofdavidwilliams.com
12.00pm - Lunch cooking with Jamie Oliver https://www.jamieoliver.com/features/category/get-kids-cooking
1.30pm Dancing with Darcey Bussel https://twitter.com/diversedancemix/status/1241098264373592065
2.00pm History with Dan Snow https://tv.historyhit.com
4.00pm Home Economics with Theo Michaels https://www.instagram.com/theocooks
Twinkl has classes for all age groups, so may be useful for siblings
The BBC Bitesize link is new and starts on Monday 20th April, this is good as their other online learning activities it should prove very useful.
Home Study
In the event of Rowhill School closing, please find the attached links as a source of home study for your child.