Following the Government's outline plan for living with COVID-19, we would like to update you on the guidance received from the Department of Education.
What is the current situation?
The school is currently open to all students.
How are we trying to keep the school safe?
We are following Government and Public Health England instructions especially our emphasis that everybody has a responsibility to wash their hands regularly and practise good respiratory hygiene.
Cleaning products will be available in all classrooms if needed, our Caretaker will provide additional cleaning of high-profile contact points.
Changes to testing in education and childcare settings
From Monday 21 February 2022, students in education settings are no longer advised to undertake twice-weekly asymptomatic testing. Therefore, we will no longer be asking students to test or report their test results.
Asymptomatic testing may have to be resumed if we are advised by our director of public health, specifically in relation to local outbreaks. We will provide further information should this situation arise.
Changes to self-isolation and daily testing of close contacts
The symptoms of coronavirus are:
a new continuous cough
a high temperature
loss/change in your normal sense of taste or smell
VISIT NHS 111 FOR ONLINE SYMPTON CHECKER
From Thursday 24 February 2022, the Government removed the legal requirement to self-isolate following a positive test.
To protect Rowhill School's community and to support us is in keeping our students and staff safe, we strongly recommend that parents/carers follow advice from the Department for Education below:
Children and young people with Covid-19 should not attend school while they are infectious. They should take a LFD test from five days after their symptoms started (or the day their test was taken if they did not have symptoms) followed by another one the next day. If both these tests results are negative, they should return to school, as long as they feel well enough to do so and do not have a temperature;
If your child does have Covid symptoms or tests positive for Covid-19, can you please follow the school absence policy and notify the school by telephone or email;

Children and young people who live with someone who has Covid-19 should continue to attend school as normal.
For students who are self-isolating, because they have tested positive for Covid-19, class teachers will upload lesson materials to support learning on Class Charts.
Rowhill School remains committed to its plans to keep the school as safe as possible, so the following measures will remain in place:
Hand sanitiser should be used upon entering and leaving each teaching space

Classroom windows and doors will remain open, where possible, to ensure maximum ventilation

Visitors will be welcomed on site by prior arrangement only
What actions can I take to keep my family safe?
There are still cases of COVID-19 in England and there is a risk you could catch or pass on the virus, even once you are fully vaccinated. This means it is important that you understand and consider the risks of catching or spreading COVID-19 in all situations.
While no situation is risk free, there are easy and effective actions you can take to protect yourself and others around you.
If you are worried about going back to a more 'normal' life, there is information from the NHS on how to cope with anxiety about lockdown lifting.
Wash your hands with soap and water often - do this for at least 20 seconds
Always wash your hands when you get home or into work
Use hand sanitiser gel if soap and water are not available
Cover your mouth and nose with a tissue or your sleeve (not your hands) when you cough or sneeze
Put used tissues in the bin straight away and wash your hands afterwards
If you are feeling unwell, get a test
Catch Up Premium
Following the 2020 lockdown due to the COVID-19 pandemic, schools have received an additional amount of money to provide catch-up support for those pupils that require it.
At Rowhill School, in order to utilise this additional funding in the best possible way, we have considered closely the research and advice put forward by the Department for Education (DFE) and the Education Endowment Fund (EEF) and used timely assessments of both pupils' academic and personal development needs to inform our decisions. The table below outlines our intentional spend with a rationale accompanying each decision.
Catch up funding - planned expenditure
Latest Communication Home
Covid 19 Risk Assessment Dec 2021
Covid 19 related pupil absence
Remote Learning during Lockdown January 2021
Common Signs of Coronavirus
Parent Communication
Coronavirus Update Letter 11.02.21
Coronavirus Update Letter 05.01.20
Coronavirus Update Letter 04.11.20
Coronavirus Update Letter 13.03.20
Coronavirus Update Letter 17.03.20
Coronavirus Update Letter 19.03.20
Coronavirus Update Letter 20.03.20
Coronavirus Update Letter 27.03.20
Coronavirus Update Letter 03.04.20
Coronavirus Update Letter 17.04.20
Coronavirus Update Letter 01.05.20
Coronavirus Update Letter 11.05.20
Coronavirus Update Letter 18.05.20
Phased return Year 10 & 11 18.05.20
Communication of Safeguarding Concerns 19.03.20
DofE Guidance for Parents
Domestic Abuse Resources
Child Protection/Safeguarding Covid 19 Policy
EHC INFORMATION
Information and advice from Hampshire County Council for families, education providers and support services about children with special educational needs, education health and care assessments and education health and care plans.
SUMMER GCSE GRADES
Letter to parent/carers 06.04.20
Supporting Children's Mental Health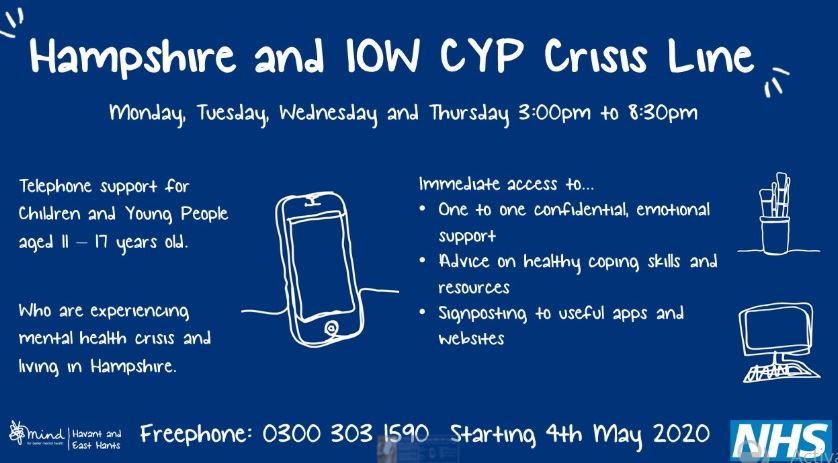 Good Mental Wellbeing During Isolation
Bedtime Gratitude Reminder Cards
Supporting Children with Mental Health